Connecting ApprovalMax to Xero allows you to set up approval workflows for, e.g., "Bill creation, review and approval", "Purchase Order creation and approval", "AP/AR Credit Note and Sales Invoice approval".
When you connect to the Xero demo company, you can try ApprovalMax for Xero without setting up your own Xero Organisation or entering your own data.

What is the Xero demo company?
Xero's demo company contains fictional data, so you can try ApprovalMax for Xero immediately and don't have to create your own Organisation in Xero or enter your own data. It has almost all the features of an actual Xero Organisation, except automatic bank feeds and the option to invite other users.


How does it work?
You can add new transactions and data to the demo company, but they'll be deleted when the demo company resets itself after 28 days. You can also manually reset the demo company at any time to remove the data you entered.
Although anyone with a Xero login can use the demo company, only you can see the data and transactions you add.


Is it possible to reconnect an ApprovalMax Organisation that was previously connected to the Xero demo company to a live Xero Organisation?
Every ApprovalMax Organisation establishes a one-to-one relationship with its connected Organisation in Xero. Once a connection has been activated, it won't be possible to reconnect the same ApprovalMax Organisation to another Xero Organisation as the workflow setup wouldn't be compatible.

Please note:
due to technical reasons it is not possible to establish a different connection to the same ApprovalMax trial Organisation. So, when the Xero demo company resets after 28 days, you'll need to create a new ApprovalMax Organisation.

This is how to access the demo company in Xero:


New users of Xero

Some new users are taken straight to the demo company when they log in.
If you're taken to the Add your organisation page instead, scroll to the bottom of that page then click Try the Demo Company.


Existing users of Xero

Log into Xero.

If you're taken straight to an organisation, click on the organisation name then select My Xero.

Click Try the Demo Company.
To remove any data you've entered, click Reset.

To try out another country's features, click Change Country.

Learn more here


This is how you connect to the Xero demo company:
When creating an ApprovalMax Organisation (be it the first one with the setup wizard, or through regular Organisation creation), you'll be proposed to connect to the Xero demo company:
During the connection setup, simply select "Demo Company" in the drop-down field and allow ApprovalMax access to it: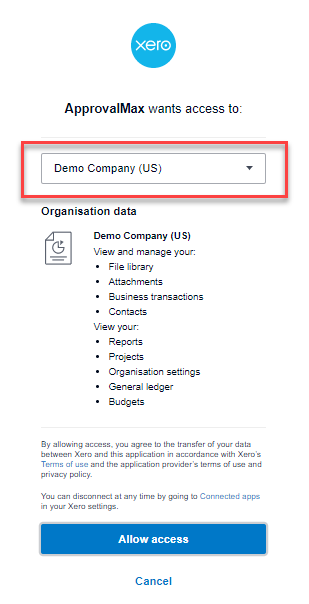 In the next screen, confirm your selection: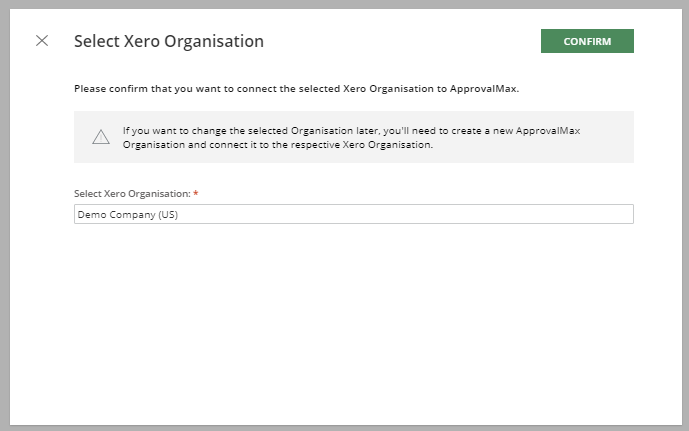 Now, you can use the predefined Xero data to try ApprovalMax without any risk to your own data or setting up your own Organisation.